Movie Review - Ishq Brandy
Rating **1/2 (2.5/5 )
Director : Amit Prasher

Starring : Roshan Prince, Alfaaz , Japji Khaira, Wamiqa Gabbi, Binnu Dhillon, B.N. Sharma, Shivendra Mahal, Karamjit Anmol, Shobita Rana & others

Run Time : 2 Hrs 10 Minutes

What's Good: The fast pace of the film; the dialogues; the performances (Specially by Roshan & Binnu)

What's Bad: Nothing Much. But the music and the climax could have been better.

Verdict: Ishq Brandy will keep everyone entertained.

Watch or Not? Of course!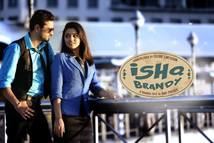 Synopsis : Ishq Brandy is a masala potboiler which narrates a story of three friends who have a tag line - if you are my friend, I don`t need an enemy... Teji, Gura and Pritam from three different worlds, bound by their respective Ishq, do something under the spell of Brandy that they unknowingly put their Ishq(s) at stake and what follows are rib-tickling sequences which decide their fate.
---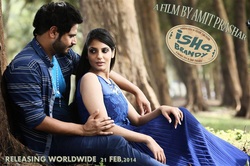 Movie Review : After TM22MT22 it`s director amit prasher`s second movie. His work is inspired by bollywood biggie david dhawan (who is known for masala entertainers) Like in this movie " Ishq Brandy " you can see star value & obvious a complete masala entertainer.

Story & Screenplay :

Rupinder Inderjit's story is a laugh riot. Although there is not much freshness in the script and there are some continuity jerks, the comedy is so enjoyable that the audience doesn't really mind. Cinematography by Jalesh Oberoi is excellent.

Star Performances & Direction

Director Amit Prasher has handled Roshan Prince in a very restrained manner. Roshan delivers a fine performance, but offers nothing that we haven't seen him do before. Binnu Dhillon, with a superb comic timing, is excellent. Every single scene he comes in is so full of fun and frolic that it's a sheer delight to watch him. Alfaaz is passable. As far as the ladies are concerned, Wamiqa is stupendous, Japji Khaira gets no scope. Shobita Rana impresses with her acting & expressions.B.N. Sharma & Karamjit Anmol are doing repetitive roles. Don`s role performed by BN Sharma will remind you the same role played by Karamjit Anmol in movie " Jatt Airways " Amita Nagia (In role of BN Sharma`s wife) has done good job.

Music and Editing :

Music always play a vital role in success of movie. If we leave song " Daddy Da Jawai " then nothing left in music. Yo Yo Honey Singh & Sachh's music is fair and should've been far better.On the contrary background by salil amrute is effective.Editing by manish more is decent.
---
The Last Word :

On the whole, Ishq Brandy is an enjoyable entertainer and will keep the audience happy! Having said that, it must be added that it will be liked more by the masses than the classes. Considering its high cost on the one hand and its handsome recoveries from non-theatrical sources (satellite rights, audio rights etc.) on the other, it will prove to be a safe bet for all concerned.
while conversation with Munish Sahni (OMjee Cineworld - Distributor) He said " Movie opened well all over & he is happy that audience is accepting the movie. It`s a good sign for the betterment of Punjabi Cinema "
Review by Vishal Kalsi