Movie Review - Myself Ghaint
Rating **1/2 (2.5/5)
Director : Akashdeep S Batth

Starring : Gaurav Kakkar, Dolly Sidhu, Maninder Velly, Aditi Govitrikar, Brownie Prashar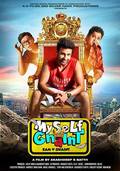 Synopsis : The story is about three friends, Ghaint, Abs, and Lehri who are living a normal life. Ghaint, whos real name is Deep Kainth falls into a huge trouble when he finds out that there is a man in the city with the same name as of his, and is very rich. A don of the city is behind the rich Deep Kainth of the city for extortion money, but his gang keeps on troubling Ghaint, being mistaken as the rich Deep Kainth. Ghaint who also met Deep Kainth, at his place fell in love with her niece in the first half of the story.
In the second half, story takes up turns and at a point Rich Deep Kainths wife gets kidnapped by the Don of the city, but still they keep on calling Ghaint, for extortion. Now the question is, can Ghaint save the Rich Deep Kainths wife and continue a normal life here after or not and also settle disputes with rich Deep Kainths niece who fell in love with him later ? Will he be able to handover the extortion money to the Don ? Will he prove himself a smart ghaint guy ?
---

Movie Review :
Myself Ghaint is a movie which can entertain you if you found of experimental movies. It`s a soft situanional comedy cum romantic movie.Almost all characters of movie have done excellent job.Gaurav Kakkar is at his best in this movie.About dolly sidhu : Amazing Amazing Amazing! She looks
marvelous
on screen.Maninder Velly steals the show.It`s nice to see aditi on screen.Brownie Prashar was decent.This movie is also debut for Rinki Singh (Soon you will see her in '
Paisa Yaar N Panga
' & ' Yaar Anmulle 2')
Technically, too,
Myself Ghaint
is a fine film. Especially noteworthy is DOP 's contribution to its look and texture.
Song of the movie specially " Udd Chaliye" , " Ishq Khuda " , " Judiyaan " are melodious. Song " Udd Chaliye " is well picturized. Gaurav & Dolly was looking so nice in this song as well as their expressions are awesome. Full marks to choreographer for fantastic work.
Main stream music is melodies as well as background by DJ Flow is excellent.
Diector Akashdeep S Batth's film deserves full marks for intention, if not for execution.
Main draw back of the movie is it's promotion. Ground promotions & digital promotion of this movie couldn`t attract audience towards cinemas.Box-office result could be better for this movie but unfortunately due to bad/dull promotions of movie will not help it to sustain at box office.
Final words : Myself Ghaint keeps you entertain in parts
---