Bhaji In Problem - Punjabi Movie

Akshay Kumar To Produce A Punjabi Film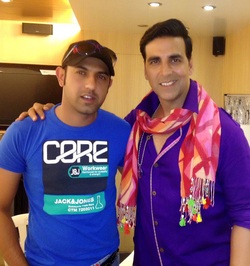 Earlier this year, Akshay Kumar and Ashvini Yardi announced a Marathi film, 72 Miles Ek Prabhat, under their production company Grazing Goat Pictures. Now, they have plans for another regional project - a Punjabi film, Paaji In Problem.
"Regional cinema is a powerful medium as it engages with audiences on a real, grassroots level. At the same time, it's an unsung hero and has just become a phenomenon in mainstream cinema," says Akshay about his recent interest in non-Hindi films. "I'm a Punjabi, while Ashvini is a Maharashtrian, so we have first-hand knowledge and experience of the importance of regional cinema in our lives and we've seen the impact on others too."
Ashvini too is of the opinion that talent in the regional market needs a push, which Grazing Goat is looking to provide. "It's a huge market that needs to be tapped. At least 20 Punjabi films release every year. There's great talent and we're here to promote it," she says.The producer also confirms that while films in other genres are on the cards too, Paaji In Trouble will be a comedy. However, it won't star Akshay. "It's the requirement of the script. If as an actor he feels he can be part of it, then it's his choice. But as producers, our job is to churn out good cinema. We are script and content driven." Movie will star gippy grewal in lead role along with gurpreet guggi & others.
Even so, Akshay is very excited about the film. He says, "It is a superb project and will be a film that will thrill cinemagoers, as it will have comedy, action, romance and of course the natural beauty of Punjab." *
Director : Smeep Kang
Starring : Akshay Kumar ( special apperance ), Gippy Grewal, Gurpreet Guggu, Ragini Khanna, Kushboo Grewal, Avtar Gill, Sandeep Pateela & others
Release Date : 15 November 2013
A Grazing Goat Pictures Presentation
Click here
for movie review
---