Punjabi Cinema Golden Honours - PCGH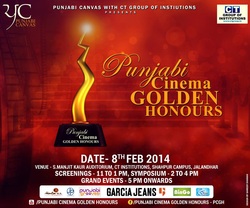 Punjabi Cinema Golden Honours - PCGH (08 February 2014)

Punjabi Canvas & CT group of institute is coming up with Punjabi Cinema Golden Honours - PCGH to support meaningful Punjabi Cinema. During press meet today founder of Punjabi Canvas Ratish Gupta, Gaurav Khanna (CT Group), Harish Verma & other personality from media & cinema were present.

Ratish Gupta said " This event is going to held with help of CT Group of institutions, Punjabi Honours will create a common platform where legends, Present stars ans future artists will come together and share the same space. It is also our endeavour to educate the people of Punjabi about the legacy of our cinema (it`s journey over time) so that they can appreciate the growth that our industry has seen and be proud to be associated with it."


The day of the event would begin with a webinar (Dasha te Disha) on the growth and technical advancement of Punjabi Cinema. The seminar will be followed by a screeing session of Punjabi short films and documentaries. The culmination of the event would be with an honors night for the veterans and contemporary stars of Punjabi cinema.

---
Event Schedule :

Event is divided into three sections : Short Movies, webinar (Dasha te Disha), Grand Event


1) Short Movie (11 AM - 01 PM)


* Sutta Naag (Amardeep Gill)
* Aab (Mandeep Aujla)
* Caterpiller (Vihavtoj Mann)
* Honesty is the best Policy (Sunil Kataria)
* Wrinkles of Life (Jarnail Singh)
* One Day (Navdeep Bobby Jhajj)
* Kamley (Ojaswee Sharma) First Time Premier


2) webinar (Dasha te Disha) - 02 - 04 PM


For growth and technical advancement of Punjabi Cinema.


3) Grand Event : 05 PM onwards


For the veterans and contemporary stars of Punjabi cinema.

Article by (Punjabigrooves.com Team : 05/02/2014)